[size=10pt]
Full disclosure:
I was sent samples of the Jabra Elite 4 Active and Elite 7 Pro by Circuit City Electronics, the official Jabra distributor in South Africa, in exchange for my honest opinion and review. While I won?t mention it as part of the review, I want to extend a special thanks to Steve Nossel, whose reputation for exceptional customer service was evident from first contact. If nothing else, Jabra has a head start on almost any other TWS brand in South Africa by virtue of the backing and support given to local customers by Steve and his team.
PART ONE
Introduction
True wireless (TWS) in-ear monitors (IEMs) are fast becoming the most popular way to listen to music on the go. The convenience of ?cutting the wires? and the freedom of using the ubiquitous smartphone as an untethered source is the perfect storm of convenience and accessibility to music anytime, anywhere.
Not only that, TWS IEMs are increasingly being packed full of modern features, like active noise canceling, which help eliminate noise from everyday environments, and considering they rely on fairly basic, lossy Bluetooth codecs, playback quality is slowly but surely catching up to fully wired earphones.
While there are dozens of different brands and models to choose from, the vast majority ? and without naming names, especially those imported from China ? are best avoided. Most of these ?cheap? wireless IEMs lack even the most basic features, and everything from build quality to audio hardware is questionable at best.
But there?s one brand that keeps getting mentioned alongside the more established TWS market leaders like Sony and Bose, despite staying firmly inside the so-called ?budget? segment: Jabra.
Part of the 150-year-old GN Group, responsible for such innovations as 2.4GHz wireless connectivity for hearing aids, Jabra is perhaps better known for its business-oriented line of headsets and their renowned voice call quality than it is for audio enthusiast wireless IEMs, and indeed some of that know-how is apparent in their consumer products too.
Towards the end of 2021, Jabra announced two new TWS IEMs aimed at two different user groups: the
Elite 4 Active
, for (you guessed it) active users like athletes, runners and gym enthusiasts; and the
Elite 7 Pro
, for business-oriented (but also active) users wanting maximum features and flexibility for both calls and music playback, without breaking the bank.
I?ll be taking a closer look at both models, having used them extensively in my daily life for the better part of two months now, and share what I consider to be their respective strengths, weaknesses, and value proposition, depending on how you?ll likely want to use them.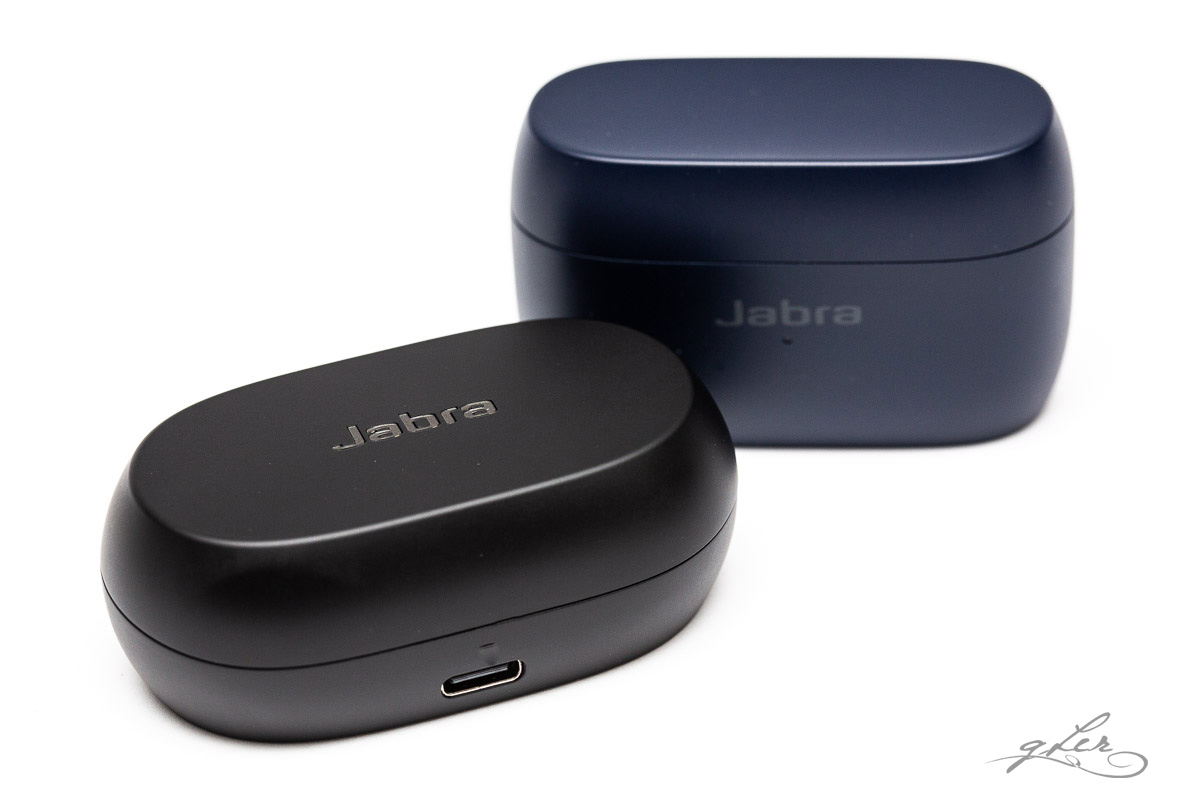 Packaging and presentation
If you think there?s something Scandinavian about Jabra?s unboxing experience, you?re right. Designed in Copenhagen is proudly exclaimed on the side of the beige and yellow 4 Active box, while the 7 Pro?s more subdued warm grey packaging adds ?and Engineered? into that sentence, suggesting a more hands-on manufacturing process for the more premium of the two IEMs.
The unboxing experience itself is as stylish as it is functional. Both Jabras feature a high-resolution classy foiled and embossed image on the cover lid which, when removed, reveals a series of tabs that open in ?layers? to reveal the contents inside. Each layer is adorned with a combination of inviting text and instructions on how to connect the IEMs, charge the case, and run the Jabra Sound+ app.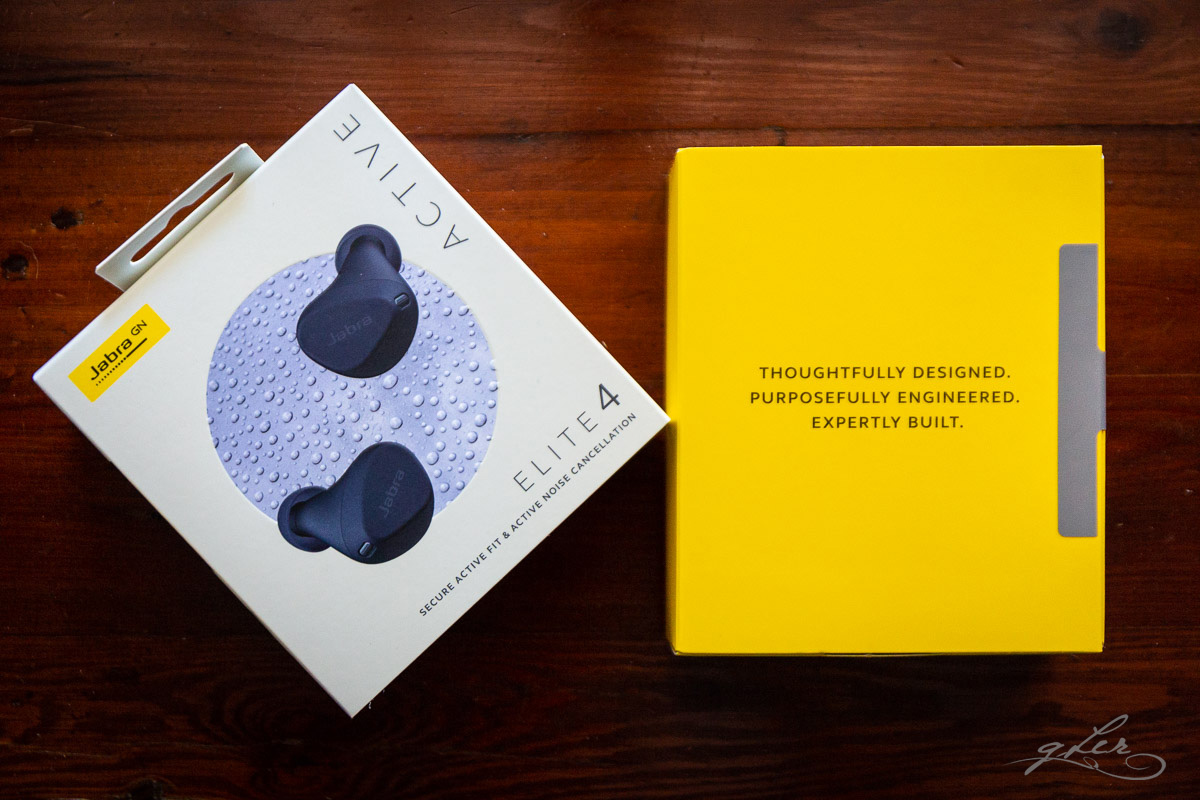 The 4 Active case is taller and slimmer than the 7 Pro case, which is flatter and easier to pocket. The 7 Pro case is also lined in a soft rubbery material on the inside, and although the smooth plastic finish is a fingerprint magnet, it has the advantage of supporting wireless charging, which the 4 Active case lacks. Both cases can also be charged with the supplied USB-C cable, with a small LED indicating the charge state and amount of battery life remaining.
Along with the cases and IEMs, each Jabra comes with a set of silicone tips (which Jabra calls EarGels) in small, medium (default), and large sizes. Although the IEMs have tiny nozzles, you may still be able to replace the stock tips with your own, but given how well they fit, I don?t see much point in tip-rolling with these.
Overall, the packaging is very well done, contains all the information you need to use the IEMs on the packaging itself, and seems to be made of recyclable material if you decide to toss it in the bin after opening. Personally, I think the care that went into designing the packaging merits you keep it around, if only to store the loose accessories so you don?t lose them.
Build quality, design and comfort
The first and most obvious difference between the 4 Active and 7 Pro is their respective designs. The Elite 4 Active earpieces are notably smaller and slightly more elongated than their big brother, designed to fit deeper in the ear for more active sessions at the gym. In contrast the Elite 7 Pro is bulkier ? but still very small, much smaller than the class-leading Sony WF-1000XM4 TWS IEMs (which I?ll compare both Jabras to later).
While the 4 Active is slightly lighter than the 7 Pro, weight really isn?t an issue for either (5g for the 4 Active, 5.4g for the 7 Pro). I had no issue getting a snug and comfortable fit with both IEMs and their supplied EarGels almost immediately, and experienced no discomfort even after hours of continuous use.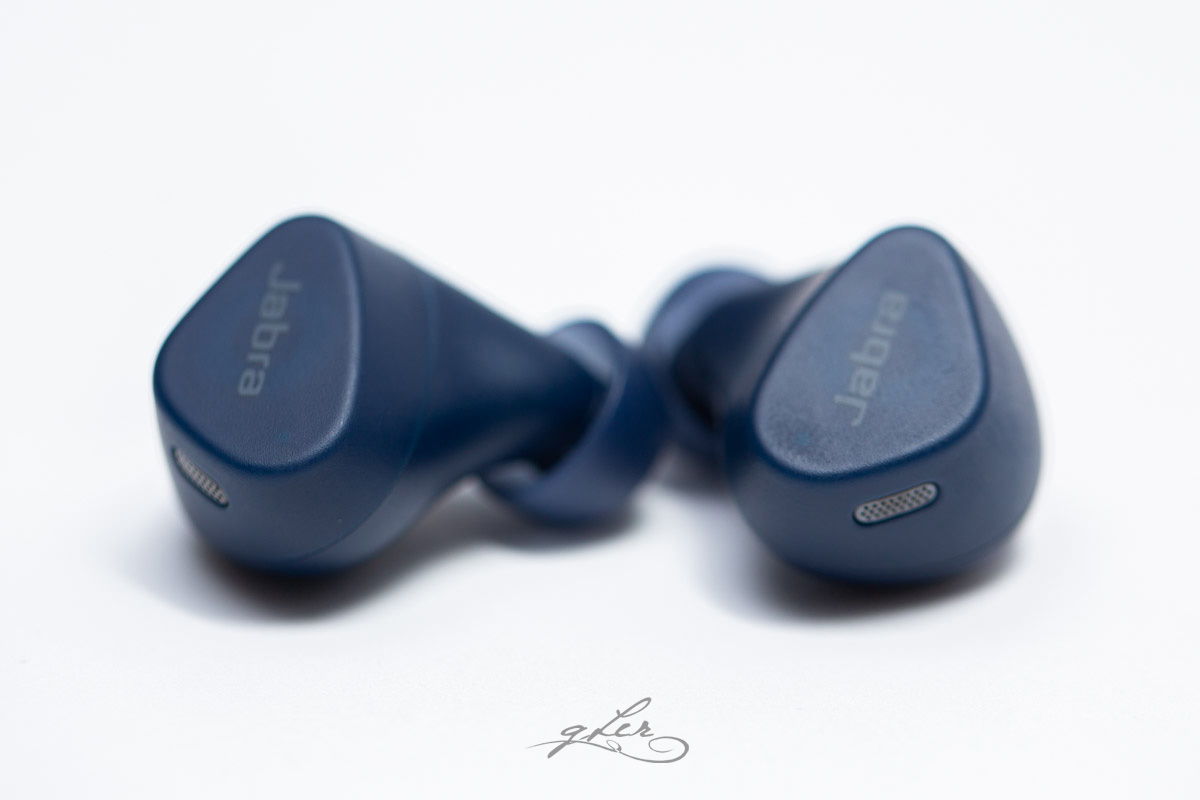 That said, the 7 Pro, though larger, was for me the more comfortable of the two. Jabra claims over 62,000 ear impressions were taken before coming up with the final design, and whatever they did, the earpieces do seem to slide in and snuggle more closely to my outer ear than the 4 Active. Neither IEM comes with ?wingtips? that were all the rage on older models, supposedly to help keep them in place, and neither IEM needs any help sitting tight. Both easily pass the ?vigorous head shake? test, and don?t move around while I?m moving around.
Colourwise the 4 Active is available in black, navy and mint, while the 7 Pro comes in black, black titanium and beige gold, reflecting their more active and corporate sensibilities respectively. I got the navy blue 4 Active and black titanium 7 Pro to review, and must say the build quality, finish and styling on both is excellent, especially considering the price point.
The 7 Pro has a slight edge on build quality over the 4 Active, if I have to be picky, with a more premium feel overall, and while the Sony flagship is even more impressive, it also costs twice as much and is twice the size, which won?t suit those wanting smaller, lighter, and less intrusive shells.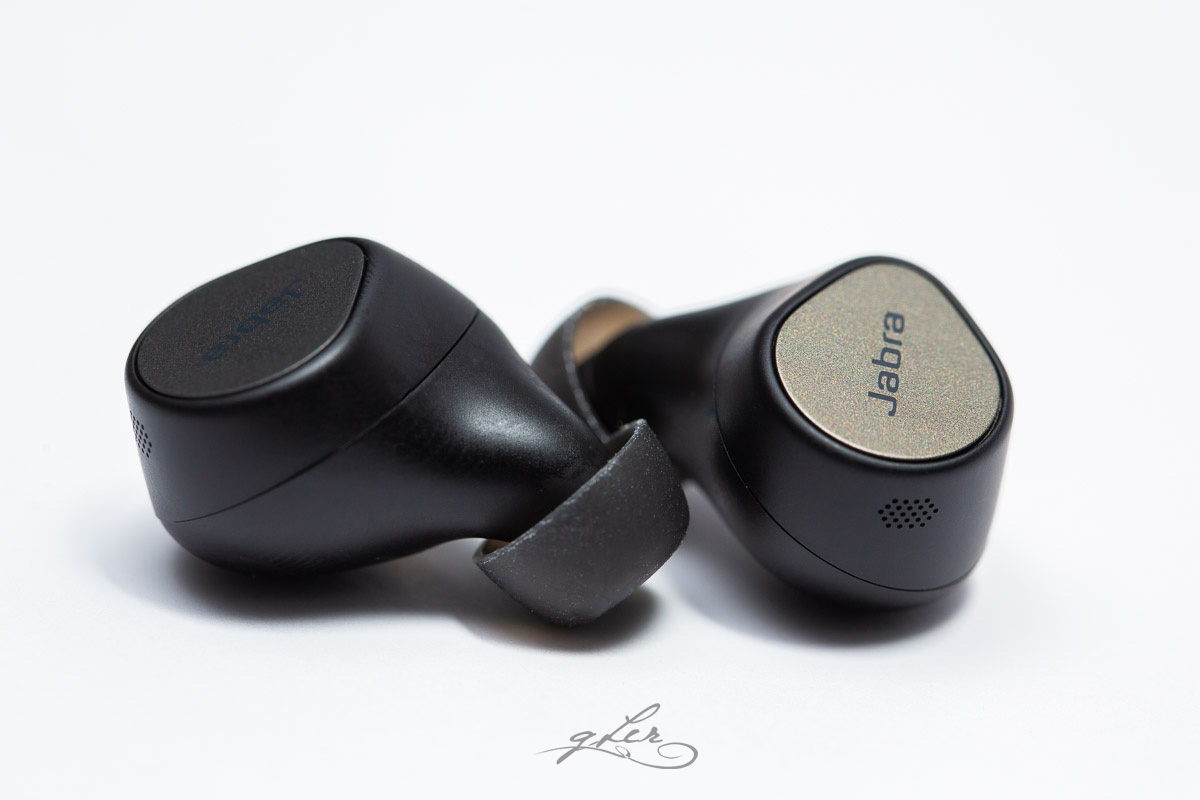 Where both Jabras have another advantage over the Sony is water and dust protection, with their IP57 rating besting Sony?s IPX4. Jabra is so confident that neither IEM will be damaged by water (as in light rain and sweat, not swimming), that your standard one-year warranty is extended to two years against water and dust damage when you register your IEMs online.
The entire face of each IEM (with the Jabra logo) is a physical button that can be pressed to activate the IEMs? various features and functions (see below). While not quite as ?slick? as the touch-sensitive controls found on some premium buds, there?s something reassuring about a physical button. For one thing, it prevents you from accidentally activating a function, although the downside is slight discomfort when pushing the button repeatedly.
The only other physical features on the smoothy sculpted IEMs is the external microphones used to pick up external noise, and for picking up your voice for calls. The microphones on the 7 Pro are slightly more advanced than those on the 4 Active, but I?ll touch on what that means in practice later in the review.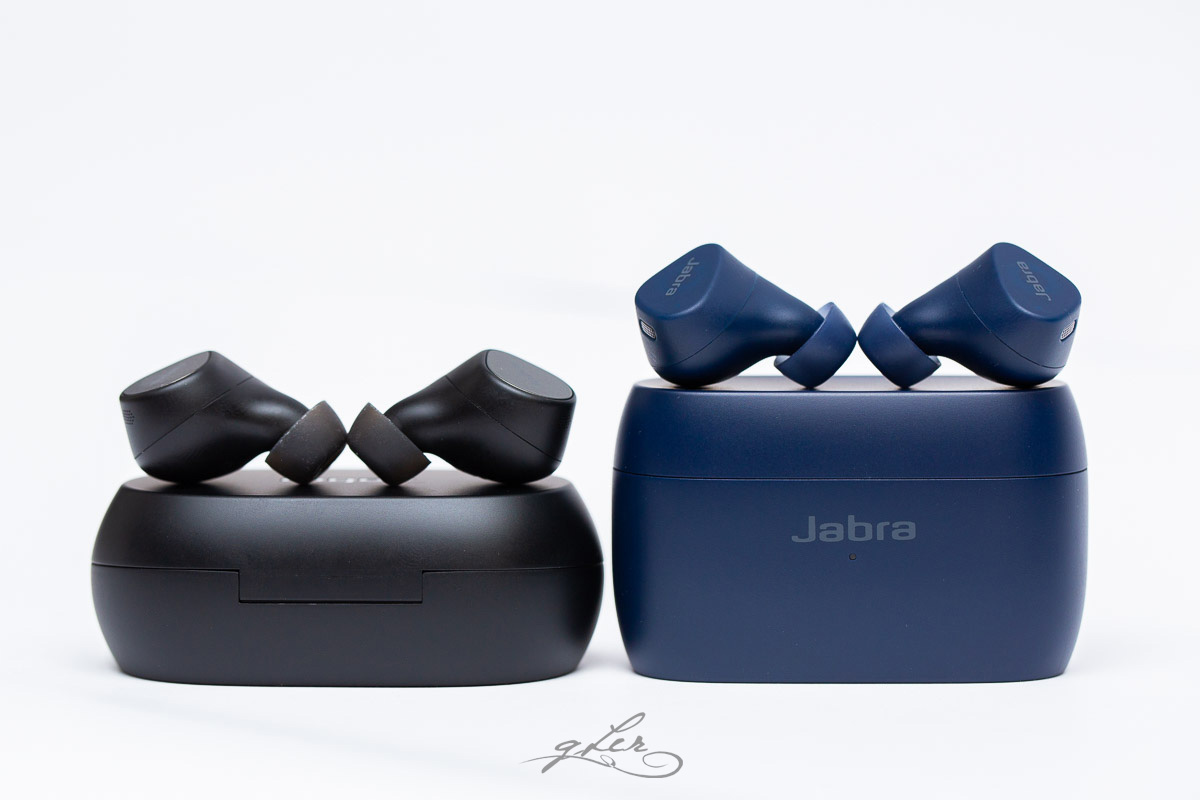 Battery life and connectivity
Two of the key specs for any TWS is battery life and Bluetooth connectivity. Both Jabras boast excellent battery life, among the best in their class. The 4 Active has a claimed 7 hours battery life per charge, with an additional 28 hours of charge capacity in the case. The 7 Pro goes one better, with 8 hours playback per charge and up to 30 hours using the case. Both can be fast-charged in the case, the 4 Active giving you an extra 1-hour playback with a 10-minute top-up, the 7 Pro needing only 5 minutes in the case for an extra hour.
Connectivity is one area Jabra seems to have cut corners to fit both IEMs into their respective price brackets. While the class-leading TWS IEMs support some at least one of the hi-res Bluetooth codec options like AptX HD or LDAC, the Jabras are limited to standard AptX (4 Active) and AAC (7 Pro) along with the usual SBC (plain vanilla Bluetooth which I can?t recommend you use if you value sound quality).
Confusingly, the 7 Pro does not support AptX, which is a superior format for anyone using Android phones, and the 4 Active does not support AAC, which makes it far less attractive to anyone using iPhones. Since iPhone only supports AAC, you?re stuck with SBC when pairing the 4 Active with an iPhone, and while many Android phones support AAC, it?s not really optimised for the platform, so 7 Pro users can expect less than optimal Bluetooth quality with their Android handsets.
All that said, Bluetooth format won?t make a huge difference to most mainstream users, so while I?m being somewhat picky about it, chances are it?s not going to be a limiting factor to your musical enjoyment, and certainly not to your calling or noise canceling experience, neither of which are negatively impacted by the codec. The one advantage of using basic codecs is that the range is usually not an issue, so you shouldn?t have any problems leaving your phone in one room and walking around the house without any drop-offs.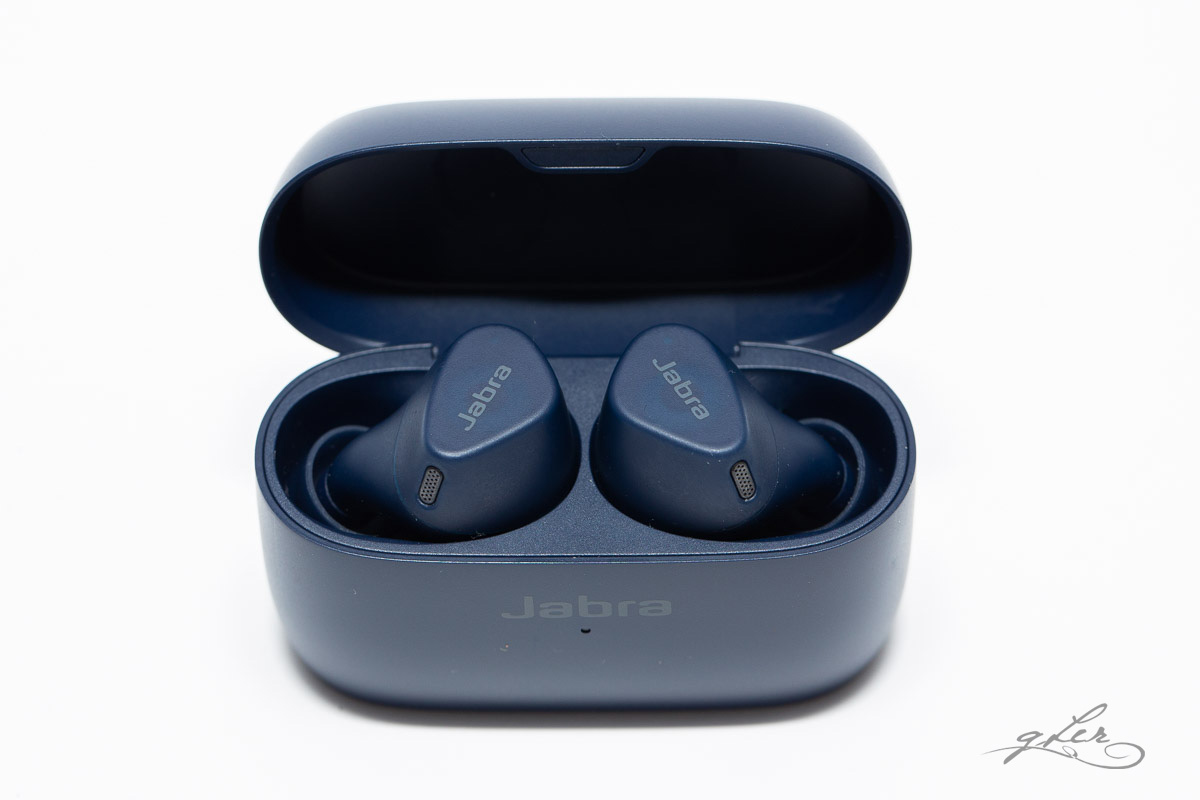 Feature for feature
One of the appeals of modern true wireless IEMs ? at least the good ones ? is the sheer number of features they cram into their tiny shells.
Not only does each earpiece contain the DAC (digital-to-analogue converter, which converts the digital signals from your phone or computer into music), they also house the tiny amplifiers that drive the tiny drivers that transmit the sound to your ears. More than that, they have to contain all the smarts for advanced features such as noise canceling, two-way calling, music and call controls, and even sensors that know when you take the earpieces off or put them back on.
While the two Jabras share many features, the 7 Pro sets itself apart from the 4 Active with a number of additional features ? particularly the ability to configure and personalise sound and controls in Jabra?s Sound+ app. For example, you can change and configure the button actions on the 7 Pro, but not on the 4 Active. The 7 Pro also features additional app settings, such as MyFit, which uses the built-in microphones to test for optimal earpiece seal, and MySound, which runs a series of short hearing tone tests, and configures music playback for your specific hearing accordingly.
MyFit is a welcome feature that I?ve seen in more advanced IEMs like the XM4, but the hearing profile is something altogether new and, which I?m not sure how effective it is in practice, at least offers a different way of tailoring the sound to your liking. 
Both 4 Active and 7 Pro feature a basic 5-band equalizer that lets you fine-tune music playback, something that I found to be quite useful on both sets. The equalizer also comes with basic presets, and lets you save your own for future use.
One of the key features of the two Jabras is active noise cancellation technology which, while not quite as advanced as the class leaders Sony and Bose, is a rarity at this price point and, from my testing, proved effective at drowning out the everyday sounds.
As a corollary to noise cancelation, Jabra included a HearThrough feature that uses built-in microphones to bring in environmental sounds and let you hear your surroundings while wearing the IEMs. This can be useful when you want to hold a quick conversation, and with a press of a button, hear what the other person is saying. It?s also useful to be able to hear your surroundings while exercising outdoors or crossing the road, for example.
You can switch between noise canceling and HearThrough modes from the Sound+ app, which also allows you to fine-tune the sensitivity of both.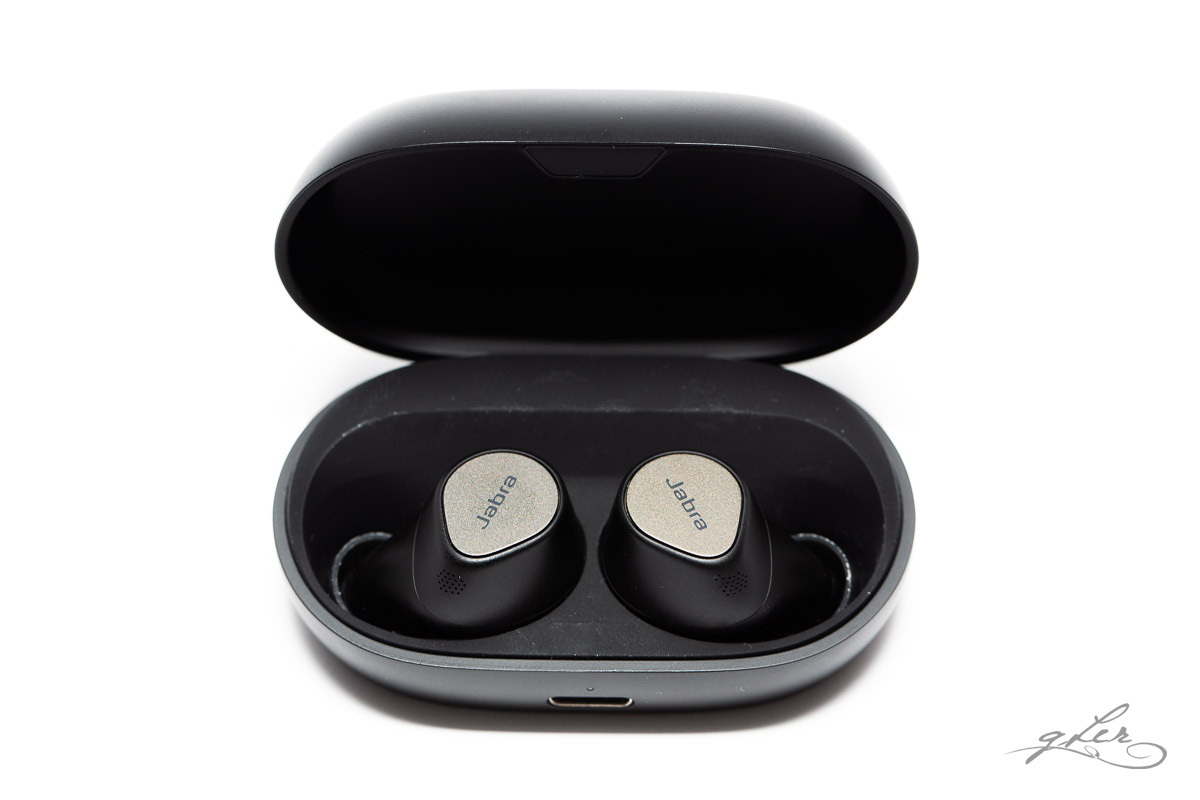 More features and functions
While I didn?t actively test the call quality of both IEMs, in casual use they both performed amicably, with my voice using the 7 Pro sounding ever so slightly clearer to the caller on the other side of the line. This is likely a factor of the 7 Pro?s two additional microphones, along with the bone conduction microphone technology it uses, which the 4 Active lacks.
Both IEMs also feature SideTone, which lets you hear your own voice during a call so you know how loudly you?re speaking. It?s enabled by default during calls but can be switched off using the app.
The 7 Pro gives you more sophisticated connectivity and playback features, including true Multipoint support that lets you connect the IEMs to two devices at the same time. This is useful when you?re working on your laptop, making Zoom calls, for example, but can stay connected to your phone to receive calls and play music in-between without disconnecting from either device. It?s a feature even the Sony XM4 currently lacks.
In addition, the 7 Pro?s wearing sensors detect when you take your IEMs off and can auto-pause whatever music is playing ? or mute phone calls ? without you having to touch any of your devices. It?s a feature I?m surprised was left out of the 4 Active, but appreciate how difficult it is to squeeze every conceivable feature into the price bracket.
In summary, while both Jabras are packed full of some of the very latest features previously the domain of higher-end products, the 7 Pro is especially impressive for the sheer number of features it includes for the price. Aside from a few advanced options like Sony?s speak-to-chat, which puts the IEMs into ambient sound mode as soon as your voice is detected, the 7 Pro doesn?t leave me wanting,
feature for feature
, against its illustrious peer.
Even the 4 Active, which offers more basic controls and features, has enough to keep all but the most finicky users happy. The stuff that counts ? active noise canceling, HearThrough, and equalizer controls ? is all there, and while app customization on the 4 Active isn?t extensive, it does the job perfectly. Any way you look at them, these are great value IEMs that don?t feel like mutton dressed as lamb, but instead feel right at home at the gym, the office and the boardroom.